1948 1949 Cadillac Drilled and Slotted Rotor Rear Disc Brake Conversion Kit NEW
NEW
SPECIAL ORDER. THIS CAN TAKE 3-4 WEEKS FOR PROCESSING BEFORE YOUR ORDER SHIPS.
INTERNATIONAL SHIPPING IS AN ESTIMATE
INTERNATIONAL SHIPPING IS AN ESTIMATE
SPECIAL ORDER. THIS CAN TAKE 3-4 WEEKS FOR PROCESSING BEFORE YOUR ORDER SHIPS.
FITS:
1948-1949 Cadillac Models
---
You are purchasing one rear disc brake conversion kit with drilled and slotted rotors. Drilled and slotted rotors allow for better cooling and help prevent dust build up that can happen with standard rotors. This kit is designed to upgrade the original factory wheels on the car. If using a wire wheel or after market rim, spacer plates may be needed. If you would like spacer plates included with the kit please select from the options above. This kit is made with a 5 by 5 (5x5) bolt pattern. If a different bolt pattern is needed please contact us directly. This kit is for 12-Inch rotors to use with the original 15-Inch factory wheels. If a larger rotor is desired, please select our "Big Disc Brake" kits.
A new emergency brake cable will be needed when installing this rear disc brake system. This is not included in the standard kit but can be added using the options above if desired. THIS CABLE WOULD BE A CUSTOM ORDER ITEM BASED ON THE MEASUREMENTS YOU PROVIDE. You will need the overall length and conduit length (as seen in the diagram below) of the cable going to BOTH REAR WHEELS. This is a total of 2 cables. Depending on how your cable system is set up under the vehicle, each cable could vary in length so do not assume they will both be the same. It is recommended that you measure the emergency brake cable AFTER installation of the disc brake kit to get the most accurate measurement.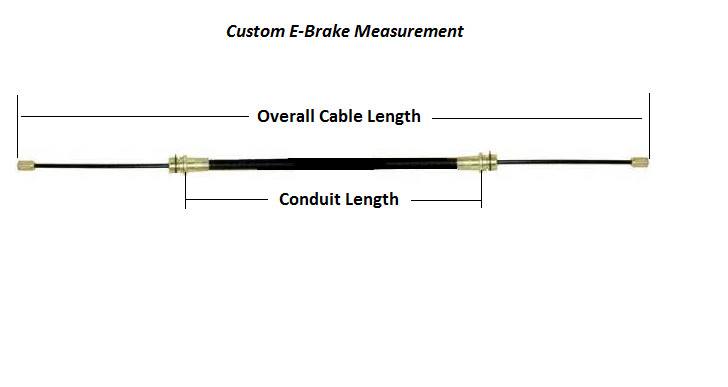 It is recommended that the booster and master cylinder are upgraded when changing to a disc brake system. Please see our combo kits that include a booster and master cylinder if you do not already have one.
THIS KIT INCLUDES:
Rear Disc Brake Basic Rotors
Rear Single Piston Loaded Calipers (Including pads)
Rear Caliper Brackets
Rear Hoses
Rear Hardware
Made in the USA.
*The images are a representation of the product and what is included in each kit. You will get the correct product as ordered.
**These kits are disc brake conversion kits. They are designed to convert vehicles with original drum brakes utilizing the original spindles. Many of these kits will bolt on directly to the original parts but some may need some minor modifications. If you have any questions we do offer tech support. All kits are backed with a 1 year guarantee from date of purchase to be free of defects in materials and workmanship. The guarantee covers replacement of defective part and does not cover installation, labor costs, special freight, or incidental damages and is void in the event of misuse, improper installation, or misdiagnosis.