---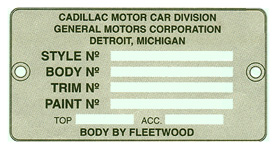 The "Data Plate" is commonly found on Cadillac vehicles between 1920s to the late 1970s. This information can tell the "Style" number or model of the vehicle, where it was in the production sequence, type of trim and color options used, and even what kind of factory accessories. This is a stamped metal plate commonly mounted in the engine compartment on the firewall on the left driver's side.
If you are not sure of the model of your vehicle, send us a picture of your Data Plate by email and we can help locate the correct parts for you.
Please note that this number is different from a Vehicle Identification Number (VIN).