1968 1969 1970 1971 1972 1973 1974 1975 1976 1977 1978 1979 1980 1981 1982 1983 1984 Cadillac (See Details) Valve Covers With 1949 Style Cadillac Script and Fins REPRODUCTION Free Shipping In The USA
REPRODUCTION
Free Shipping In The USA
SPECIAL ORDER. MAY TAKE 7-10 DAYS TO SHIP FROM THE DATE OF YOUR ORDER.
SPECIAL ORDER. MAY TAKE 7-10 DAYS TO SHIP FROM THE DATE OF YOUR ORDER.
INTERNATIONAL SHIPPING IS AN ESTIMATE.
PLEASE SEE MEASUREMENTS BELOW FOR THE DIMENSIONS OF THE VALVE COVERS
REPRODUCTION. You are purchasing 1 pair of valve covers. These are available in a "As Cast" finish, "Polished" finish, or "Black Powder Coated" finish. Please select from the drop down menu to select the finish. These have a heavy duty sand-cast aluminum construction, so they have a sand-like surface texture. This texture will be visible through the powder coat and on polished pieces, may have some porosity that is revealed. If you are ordering a polish finish, please note that these are hand polished and the spaces around the script and fins will not be polished so that there is more contrast.
The open interior clears most roller rockers, please double check the measurements below to ensure proper fitment. These are a thick wall construction with gasket flanges that will not bend or flex when bolts are tightened for a leak free seal.
These valve covers include the correct mounting hardware. The gaskets are not included, if you would like gaskets added to your cover, please select from the drop down menu.
Most applications breathe through the valley plate so these valve covers do not incorporate a provision for breather holes or PCV. If you would like this option added please contact us directly after your order is placed.
FITS:
1968-1984 Cadillac Models WITH 368, 425, 472, and 500 Engines
DIMENSIONS: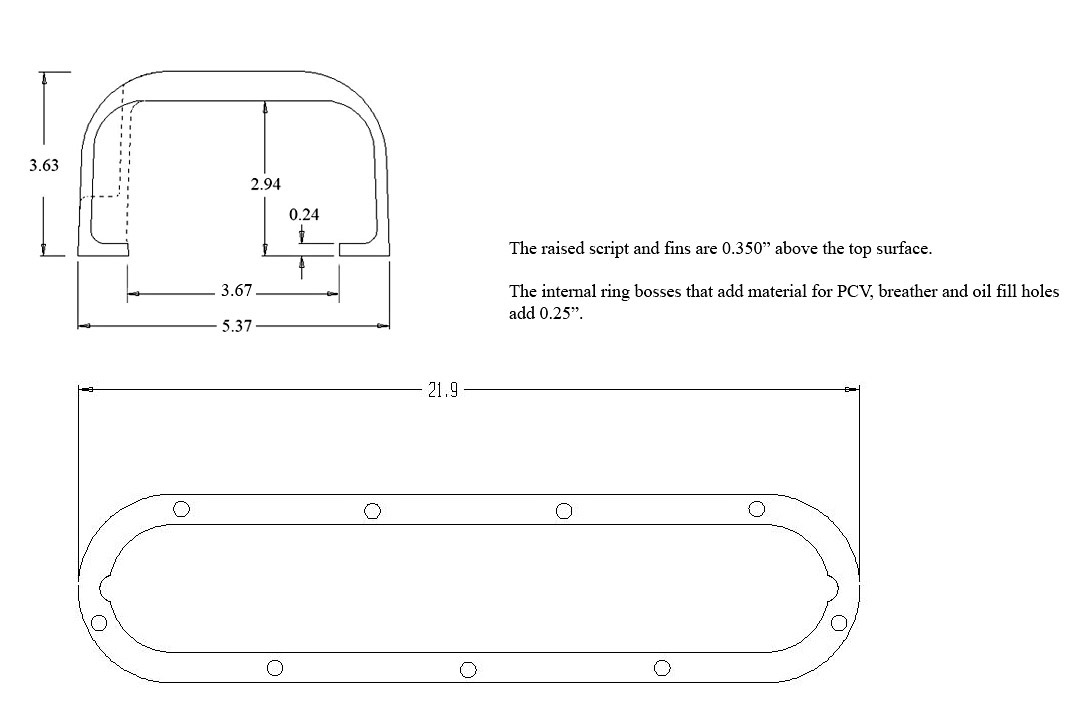 HOLE DRILLING OPTIONS AND EXAMPLES: