1955 1956 1957 1958 1959 1960 1961 1962 1963 Cadillac Engine to GM Transmission Conversion Adapter Kit With Starter (See Details) NEW
NEW
IN STOCK AND READY TO SHIP.
NEW. This is an adapter kit and a 2 bolt gear reduction starter for Cadillac 331, 365 and 390 Engines to convert from the classic HydraMatic or Jetaway to a Chevy Bolt Pattern 200R4, 700R4, 4L60, or 4L80 Transmission. A new starter is required with the installation of this kit, your original starter will not work with this application. Please watch the installation video in the "How to Install" tab, this video is of our old style kit but the basic installation is the same. Installation instructions are also included with this kit.
FITS:
1955-1963 Cadillac Models WITH 331, 365 OR 390 Engines ONLY**
---
THIS KIT INCLUDES:
High Torque Mini-Starter
Adapter Plate - Chevy Bolt Pattern 200R4, 700R4, 4L60, or 4L80 Transmissions
168-Tooth Steel Flexplate with New Ring Gear
Aluminum Crankshaft Spacer
2 Hex Cap Screws (3/8-16 x 3-3/4 Inches)
4 Socket Head Cap Screws (7/16-14 x 1 Inch)
6 Socket Head Cap Screws (7/16-20 x 3/4 Inch)
6 Flexplate Bolts (7/16-20 x 3/4 Inch)
1 Hex Cap Screw (3/8-16 x 1-3/4 Inches)
3 USS Flat Washer (3/8 Inch)
1 Lock Washer (3/8 Inch)
6 Hex Cap Screws (3/8-16 x 1-1/4 Inches)
These kits are designed to convert vehicles with original 331, 365 and 390 engines to 200R4, 700R4, 4L60, or 4L80 transmissions. In many instances, these kits will bolt on directly to the original parts but some may need some minor modifications. Professional installation is recommended for proper use of these parts. You are responsible to ensure parts are installed correctly to prevent unnecessary damage or wear to your parts.
Changing the transmission will require changing the mount and driveline. Please see additional products that we offer in the related products below if you would like to use these. Please compare all measurements and information before purchasing to ensure proper fit.
---
If you are looking to use a BOPC Bolt Pattern, please contact us directly for availability.
COMPARE BOLT PATTERNS BELOW TO ENSURE A PROPER FIT - THIS KIT FITS TRANSMISSIONS WITH THE RED HOLES IN THE PATTERN.
---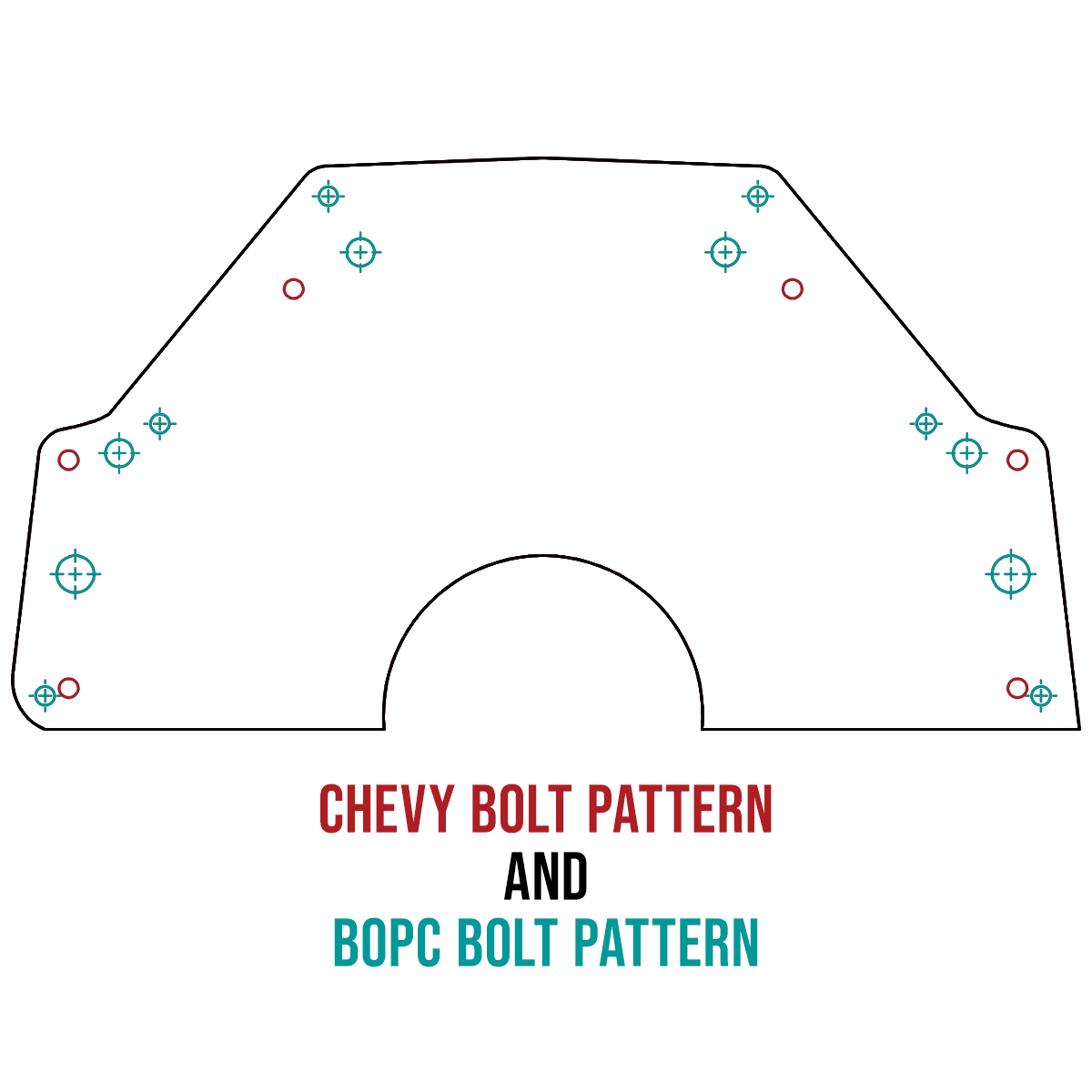 Use these additional specifications to compare to your transmission to determine the proper style. Chevy style transmissions are on the bottom portion and BOPC transmissions are on the top portion.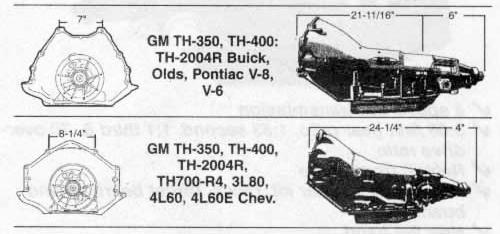 ---